GFS Design Group partners with Peekskill City School District to excellerate STEAM Apprenticeships & Mentorships
Peekskill, NY - February 5th, 2019
GFS Design Group, Inc., a Certified HUBZone (Historically Underutilized Business Zone) Company, is honored to be part of the Peekskill City School Districts P-TECH STEAM apprenticeship program. This initiative is creating social wealth by working with neighborhood resources and Small Business to give the youth opportunities to participate in Digital projects central to business goals.
"All too often, the kids hear - You can't get the job without the experience, and you can't get experience without a job" said Glenn Smith, president of the Design Group. "These Apprenticeship and Mentorship opportunities bring 2 groups together as only business can. Beyond a shared success, and good will, the unintended benefit is greater than the sum of the parts: Respect."
As details of the program evolve, GFS Design Group will participate in all capacities to ensure Workforce Readiness and Small Business success remain a top priority.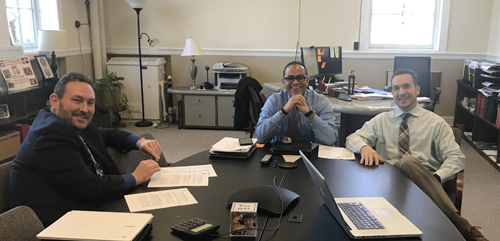 Ideation Sessions with the City of Peekskill School District

GFS Design Group receives HUBZone re-certification from SBA
Peekskill, NY - January 7th, 2019
GFS Design Group, Inc., an innovative Creative Digital Agency focused on Socially Beneficial Outcomes, announced today their certification of the Small Business Administration (SBA) HUBZone (Historically Underutilized Business Zone) designation. The HUBZone re-certification became effective on December 9th 2018.
"We see this as an incredible opportunity and important milestone in the ten year history of GFS Design Group" said Glenn Smith, president of the Design Group. "This certification highlights our ongoing commitment to operating in an economically disadvantaged area, and we hope it will allow us to employ even more people in the Peekskill area, while bringing more business home to the Hudson Valley."
A HUBZone certified business is a small business under SBA standards, who must be principally located within a HUBZone and have at least 35% of its employees residing in a HUBZone. According to the SBA website, the program encourages economic development in historically underutilized business zones –"HUBZones", and the federal government has a goal of awarding 3% of all dollars for federal prime contracts to HUBZone-certified small businesses.
Glenn continued, "Through our HUBZone certification, GFS Design Group looks to add value to prime contractor project teams by leveraging our core capabilities in digital design & development and the Internet of Things. Our next phase includes Apprenticeship programs to accelerate America's Innovation Ecosystem, where we partner with local schools and colleges to give students real world experience by pairing them with seasoned business professionals. Experience, reimbursement, and credit toward continuing education goals create a win-win for everyone."
The HUBZone certification process takes months to complete, and includes a complete background check on the company's background history, current employees and physical location.